Crafting with ice cream sticks or may say lolly sticks is amazing and exciting. This pencil stand looks antique. This craft can be used in many ways as an example you may hold your pencils, craft scissors, paint brushes, glue and even toothbrushes.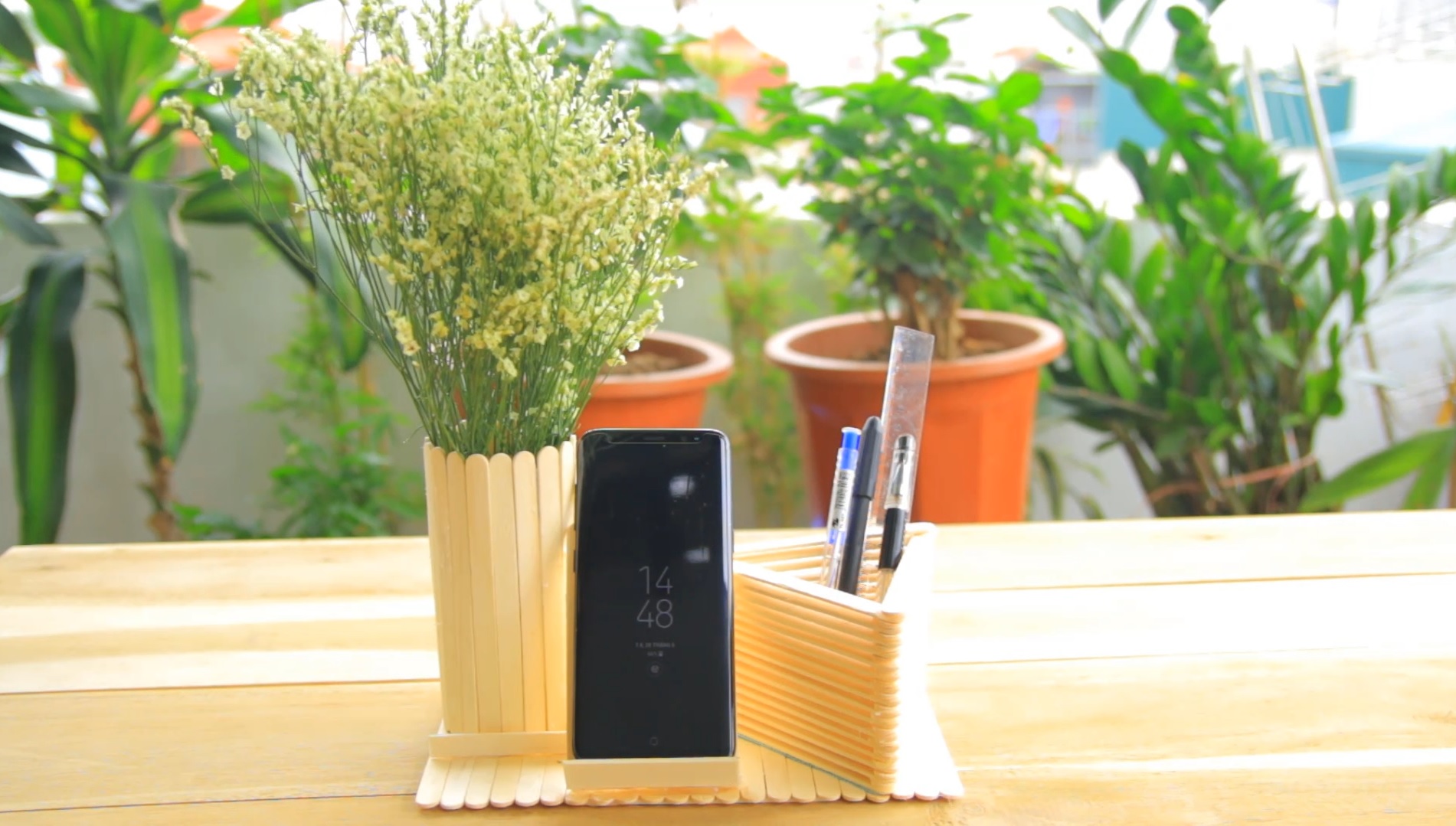 Things you will need:
A pack of best ice-cream sticks
Arcylic colours
Ice cream cup
Paint brush
Pastel sheet
Fevi-glue
Cotton ball
Gold acrylic powder
Bold black marker
How to make (First way)
Trim the rim of the ice cream cup perfectly with the scissor.
Now, please one stick beside another, and past their edges combine with a fevi glue.
Once the sticks are glued in the straight line direction, pat it around the cup.
Let the glue dry and paint the stationery holder outside and inside.
Dip a cotton ball in the gold acrylic powder and apply it onto the stationery holder perfectly.
Lets add some paper flowers to raise its attractiveness. I have made golden flowers with green leaves.
How to make (second way)
(If you want a Popsicle House, you can see the post:"How to make a Popsicle house")
Paint few ice cream sticks in black and past amazingly on plastic box to shape the cat body.
Cut two sticks of ice cream in half and paint all the 4 pieces in black color
Now, locate these parts in triangular shape to make the cat ears.
Paint six ice cream sticks in white color to make cat face.
Now cut one white ice cream stick shorter than half.
Locate these two parts horizontally under the ears.
Cut one white stick bigger than the last stick and past horizontally within the previous stick.
Now past one full white stick below it.
Now paste three white sticks in reverse order.
The face of the cat in round shape
Past two goggly eyes on the cat face.
Draw the smiley from black marketer pen.
Now just mustaches are remaining to make and it must look true.
Cut few pieces from black wool. And past these wood parts on the cat face as mustaches.
Smiley cat is ready
Do you know that you can make such pen stands in your house with some waste materials? Yes, it is real, the full things that you are required are very simple ingredients that are simply accessible in your household. Also it can be made from the popsicle sticks. Actually popsicle sticks are treated as waste stuffs. But if you use them in a best way you can make wonderful pen stand from these sticks.
Next the post: How to make a Popsicle House
By: kheotay.com.vn