Doraemon is a famous character that has been a part of everyone's childhood. There is no way you can forget the warm house of Nobita and Doraemon. So, relive your childhood memory with FoBIRD.com! We will show you all the steps on how to make a model of Nobita and Doraemon's house with colored popsicle sticks.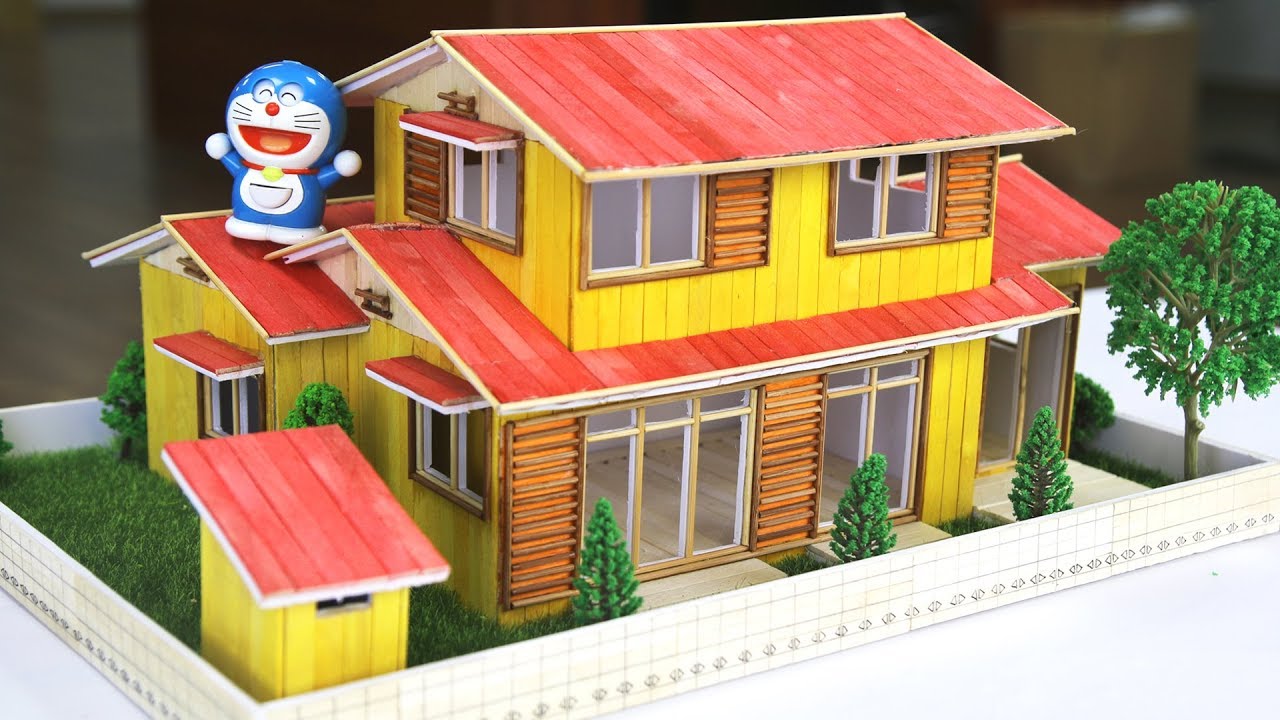 The materials you need are:
Detailed sketch
Wood popsicle sticks
Colored popsicle sticks
Brown and white toothpicks
Plastic grass
Tiny plastic trees
Mat boards
Glue gun and glue sticks
Pencil, ruler
Special scissor to cut toothpicks
Surgical knife
Follow these steps to make Nobita and Doraemon´s house model:
First, we need to draw a detailed sketch for the mat boards.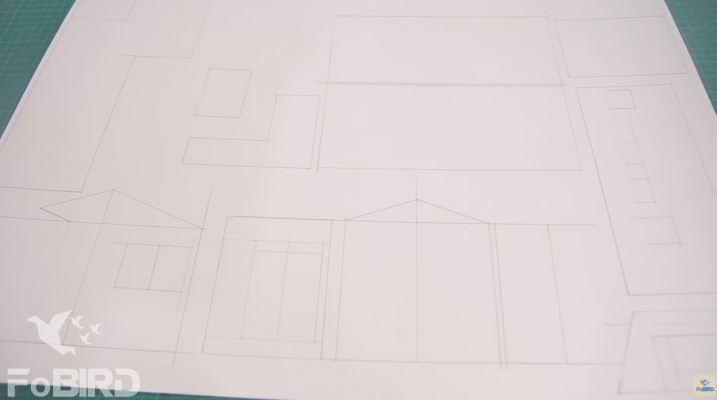 Cut toothpicks and colored popsicle sticks into small pieces and attach them to the mat board that you have prepared. Use surgical knife to cut off excessive parts inside of the windows.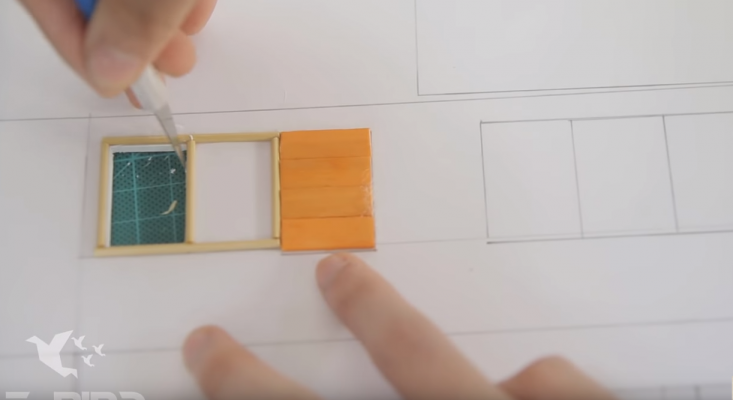 Continue to put colored popsicle sticks on the walls.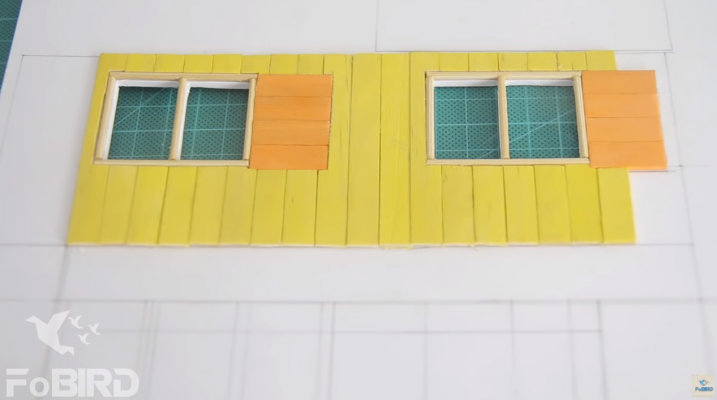 Just like that we glue colored popsicle sticks and toothpicks to make wall pieces of the house.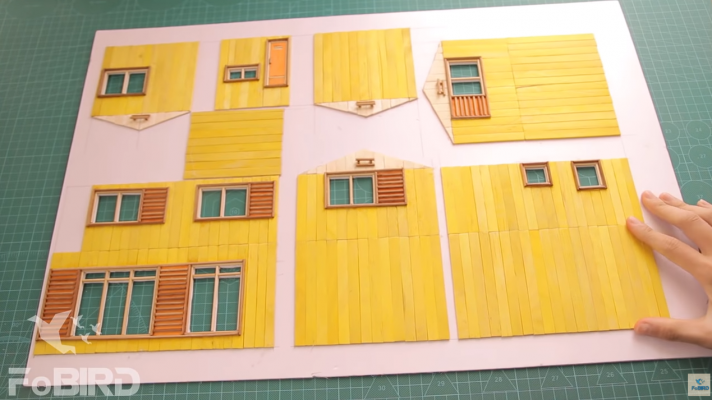 The second floor and the roof.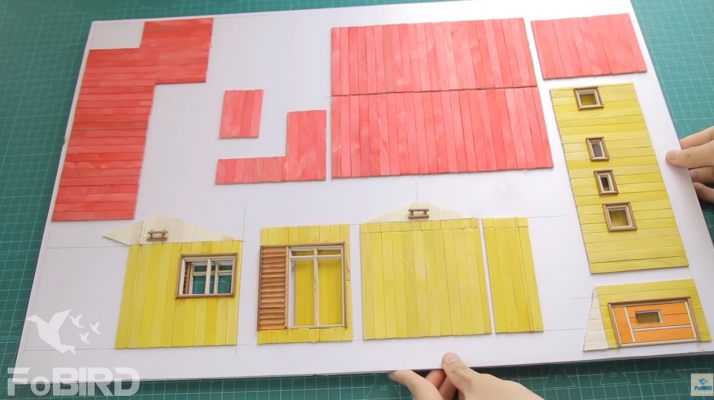 Make the other part of the roof and draw the foundation of the house on a mat board.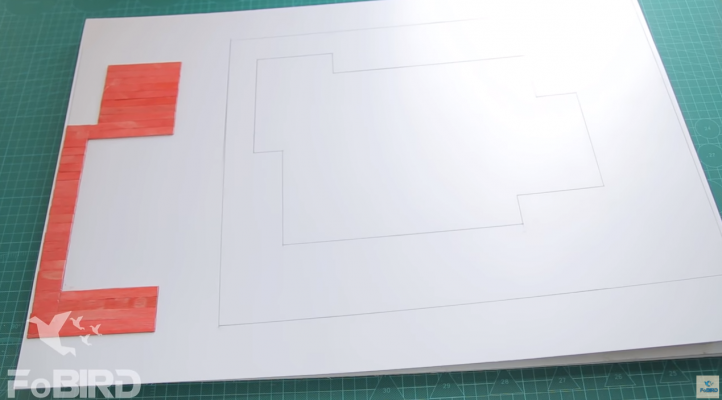 Next, we use surgical knife to separate the walls.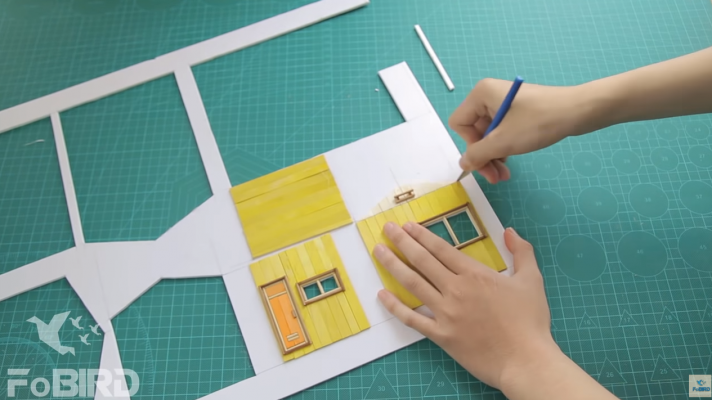 Join the details together according to the sketch. Remember to glue them tightly at 90degree.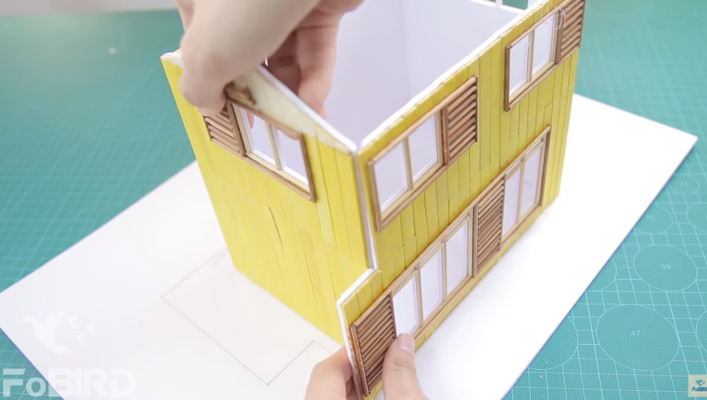 Now move on to gluing the first floor.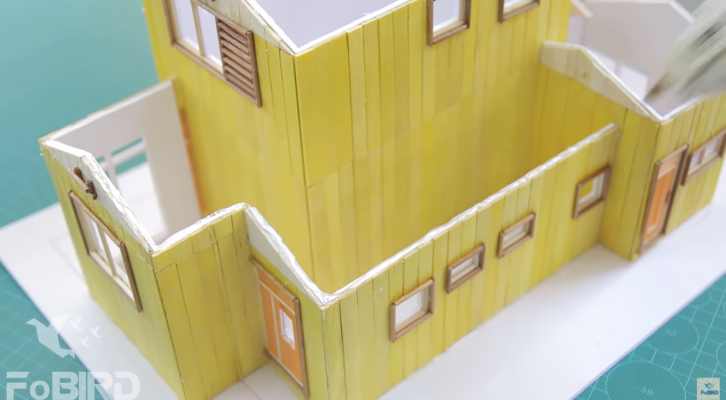 For the floor inside of the house, first we use wood popsicle sticks to make a "skeleton". Then we cover the foundation with wood popsicle sticks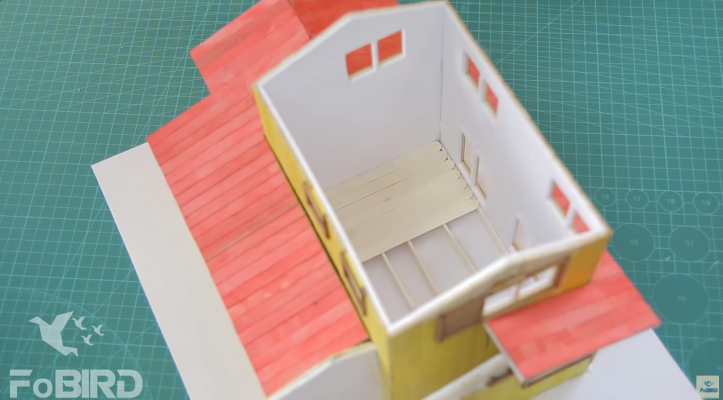 After finishing the floor, unite all roof details together.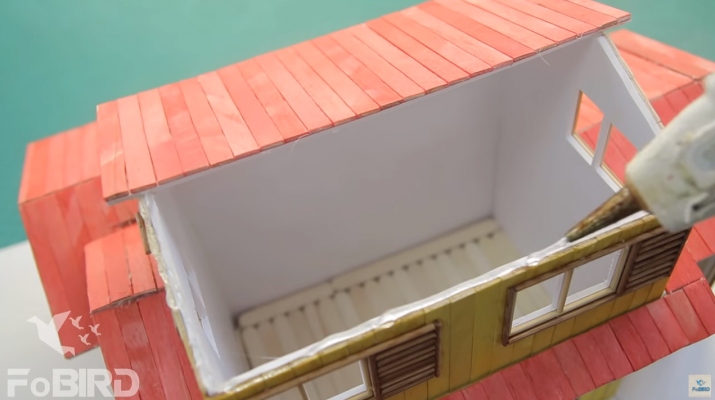 Now put on the window´s cover on top of them. Remember to tilt them a bit so they look more beautiful.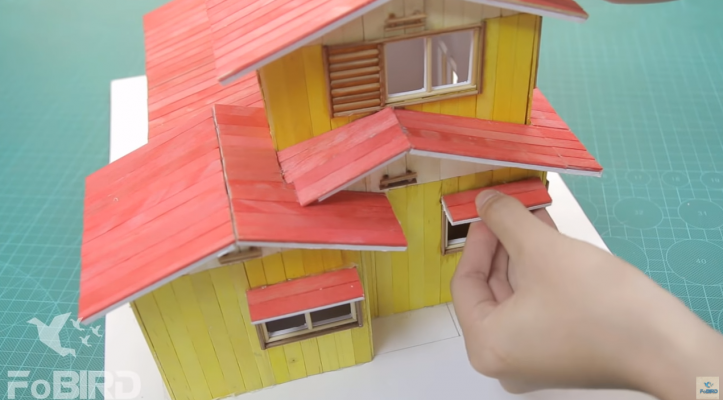 Now we use scissor to cut off both ends of wood popsicle sticks and join them together and make a box. This will be the porch. Measure the size of the doors before cutting the sticks to make the porch. That way it will fit perfectly.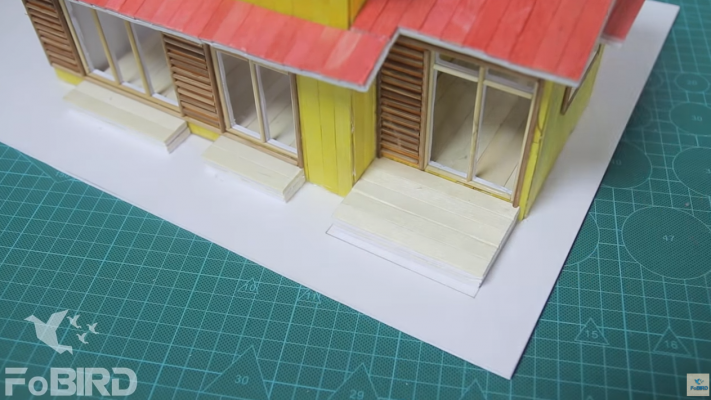 Next, cover the entire yard with beautiful green but fake grass.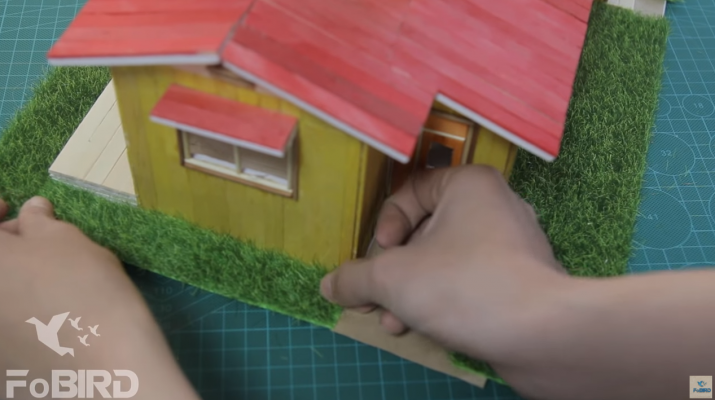 To make the surrounding wall for our Nobita´s house, we glue wood popsicle sticks on the mat board. Then we use pencil to draw on pattern. And finally, cut the board into long shape and place them outside of the grass field.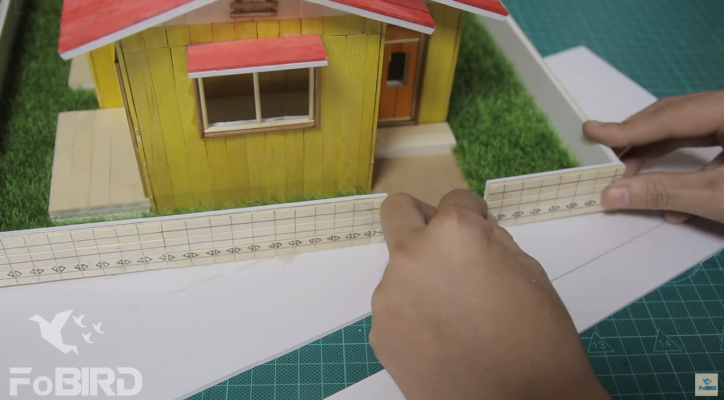 Finally, put in small trees and the warehouse on the yard for Nobita´s house. And now you have the dream house of childhood.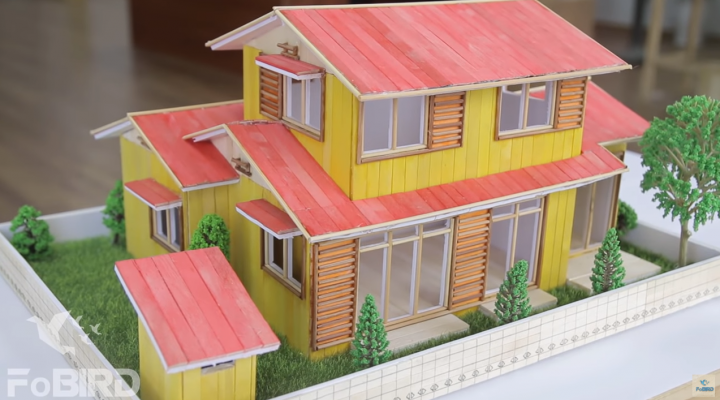 Are you reliving your childhood memory? Because we do. Having a Doraemon comic in our hands was wonderful. Many even got scolded by their parents for being too engaged in the comic. We hope that with this house, you can always save a part of your youth with you. Good luck!
You can check out how to make a popsicle stick house with this video below:
By: FoBIRD.com