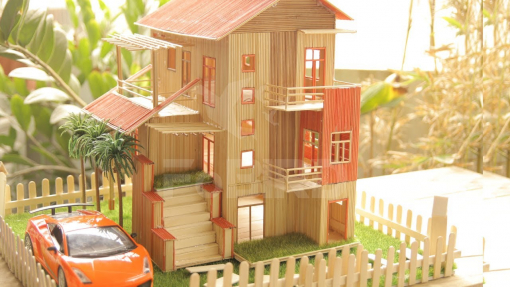 Stick house with Red roof drawing
Main material: wooden sticks
Scale: 1:1
Unite: cm
File format: AutoCad, PDF file
You can print PDF file or CAD file
Save 20% for "the drawing invoices" from $15
Chat Support
Description
List of materials:
Product
Qty
Line total
The drawing
1
6.8
Wooden sticks 2.5mm*50cm – 1kg
2
84
Brown wooden sticks 2.5mm*50cm – 0.5kg
1
36
Ice cream sticks – 100pcs/pack
2
2.8
Hot melt glue gun – 20W
1
19
Hot melt glue
30
6
Grass high quality for model
3
24
Wooden stick shear
1
29.9
Fomex plate for model floor
2
4
Coconut tree size 16cm for model
3
16.5
Total
$229
Stick house with Red roof drawing
Making a stick house with roof drawings can be entertaining and enjoyable experience. It does not need much cash and can provide an environment to hang out with friends and complete an artistic project. Most of the materials you will need are found in most households. You can buy the little items you do not have from a craft store or store of FoBIRD.
Tutorial video
By: FoBIRD.com
Related products