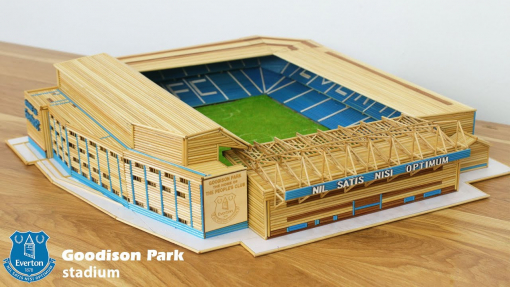 The Goodison Park stadium of Everton FC model
Limited edition
Only 3 models were produced
Item can be shipped within U.S, EU, worlwide
Ships from and sold by FoBIRD.com
2 in stock
Chat Support
Description
Goodison Park is a football stadium in the Walton area of Liverpool, England. It has been the home stadium of Premier League club Everton F.C. since its completion in 1892. Located in a residential area 2 miles north of Liverpool city centre, it has an all-seated capacity of 39,414.
With our admiration for English football and the Everton Club, we completed the Goodsion Part stadium model.
Each of these models was made within 21 days, from our most ingenious architects and only 3 were produced. With the main materials are high quality wooden sticks. This is a material with high aesthetics, durability and very environmentally friendly, easy to decompose or recycle.
If you love this model of stadium and love the environment then this is your great choice.
If you want to build this stadium yourself, you can order the KIT here:
Tutorial video: 
Theo: FoBIRD.com
Related products